Street Glide® Model Comparison
The Street Glide® series of Harley-Davidson® motorcycles comes in three different models: the Street Glide®, Street Glide® Special, and Street Glide® ST.
Street Glide®
The Street Glide has the classic, slammed custom look that's iconic of a Harley Davidson bike. This model comes equipped with a Milwaukee-Eight® 107 V-Twin engine and batwing fairing.
You get style to match its high performance, with chrome exhaust and a Vivid Black finish. Midnight Crimson and White Sand Pearl are also available for this model. The Street Glide offers a smooth ride, energizing rumble, and a classic Harley look.
Street Glide® Special
With the Street Glide® Special, riders get an engine upgrade to the Milwaukee-Eight® 114 V-Twin with a boost in engine torque. This model series also comes equipped with Prodigy™ wheels for eating up some serious highway mileage. 
The Street Glide® Special allows you to customize your ride even more, with the choice of blacked-out or chrome finish for the exhaust. All in all, you have 11 color options to choose from for your chopper, including newly introduced two-tone paint schemes.
Street Glide® ST
A fine-tuned road performer, the Street Glide® ST is for riders who pay attention to every detail to get the most out of their bike when they hit the road. This is engineered to be a pro-touring performance bagger that gets the most torque and displacement out of its powertrain.
The result is felt whenever you hit the throttle to accelerate on the open road. The high-performance engine is reflected in its sport touring design that allows for a little more lean than the other models. The Street Glide® ST also has a unique blacked-out look available in Vivid Black or Gunship Gray.
MILWAUKEE-EIGHT® 107 ENGINE
The Milwaukee-Eight® engine is the latest iteration of Harley-Davidson's Big Twin engines. It offers even more power and torque than its predecessors along with being highly reliable and fuel-efficient. 
It also has fantastic cooling to accommodate the increase in power while maintaining peak performance efficiency. The Milwaukee-Eight® still has the classic V-twin configuration with eight valves across two cylinders. 
The Milwaukee-Eight® 107 V-twin is standard on the Street Glide® model. Special and ST models feature the Milwaukee-Eight® 114 with higher torque and displacement.
REFLEX™ LINKED BREMBO® BRAKES WITH OPTIONAL ABS
The Reflex™ Linked Brembo® Brake system is a prime example of how Harley-Davidson® has incorporated the latest in engineering into its classic bike design. This smart braking system offers riders more control over their motorcycle when they're accelerating and braking. 
When the system senses urgent changes in the road or hazardous conditions it can adjust the traction to meet the performance of the bike and provide greater control. This system is available with ABS to prevent your wheels from locking up when you apply the brakes and also offers greater control when braking heavily or quickly.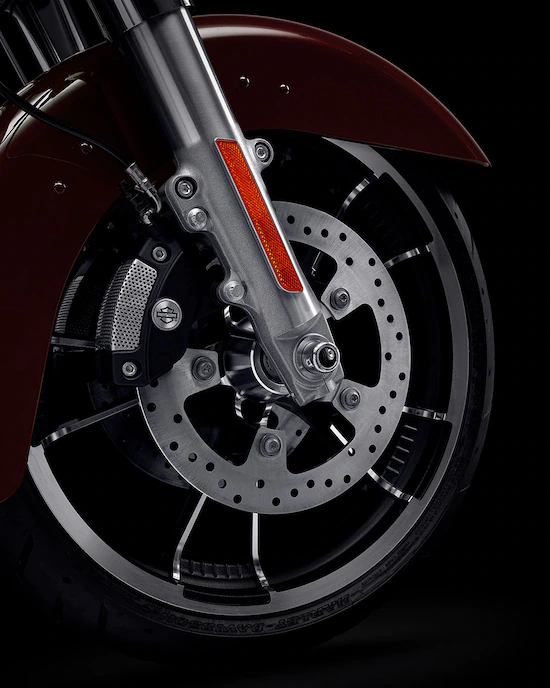 BOOM!™ BOX GTS INFOTAINMENT SYSTEM
The Boom! Box GTS Infotainment System is a streamlined infotainment center that maintains the classic look and feel of your ride while offering the modern connectivity and operation you expect from an infotainment center.
The system is a 6.5" touch screen that's operable with touchscreen gloves and optimized for visibility even in high sun. The internal processing system is the fastest and most responsive yet, so you can make quick changes to your route on the fly. Controls are also operable by the bike's hand controls.
BATWING FAIRING
The Street Glide® features a batwing fairing that compliments the hot-rod look of the ride while providing highly functional, aerodynamic protection. The batwing fairing is fork mounted and facilitates smooth air flow and reduced head buffeting.
RESPONSIVE SUSPENSION
As a bike with performance features to eat up the highway with, it's no surprise that the Street Glide® has a high-performing front and rear suspension to go with it. The responsive suspension includes a dual bending valve front fork and a premium low hand-adjustable rear suspension.
The hand-adjustable rear suspension allows you to tailor your ride to your preference and adjust easily based on road conditions.