---
GATEWAY RIDING ACADEMY 2022 DATES
3-Day Program
$299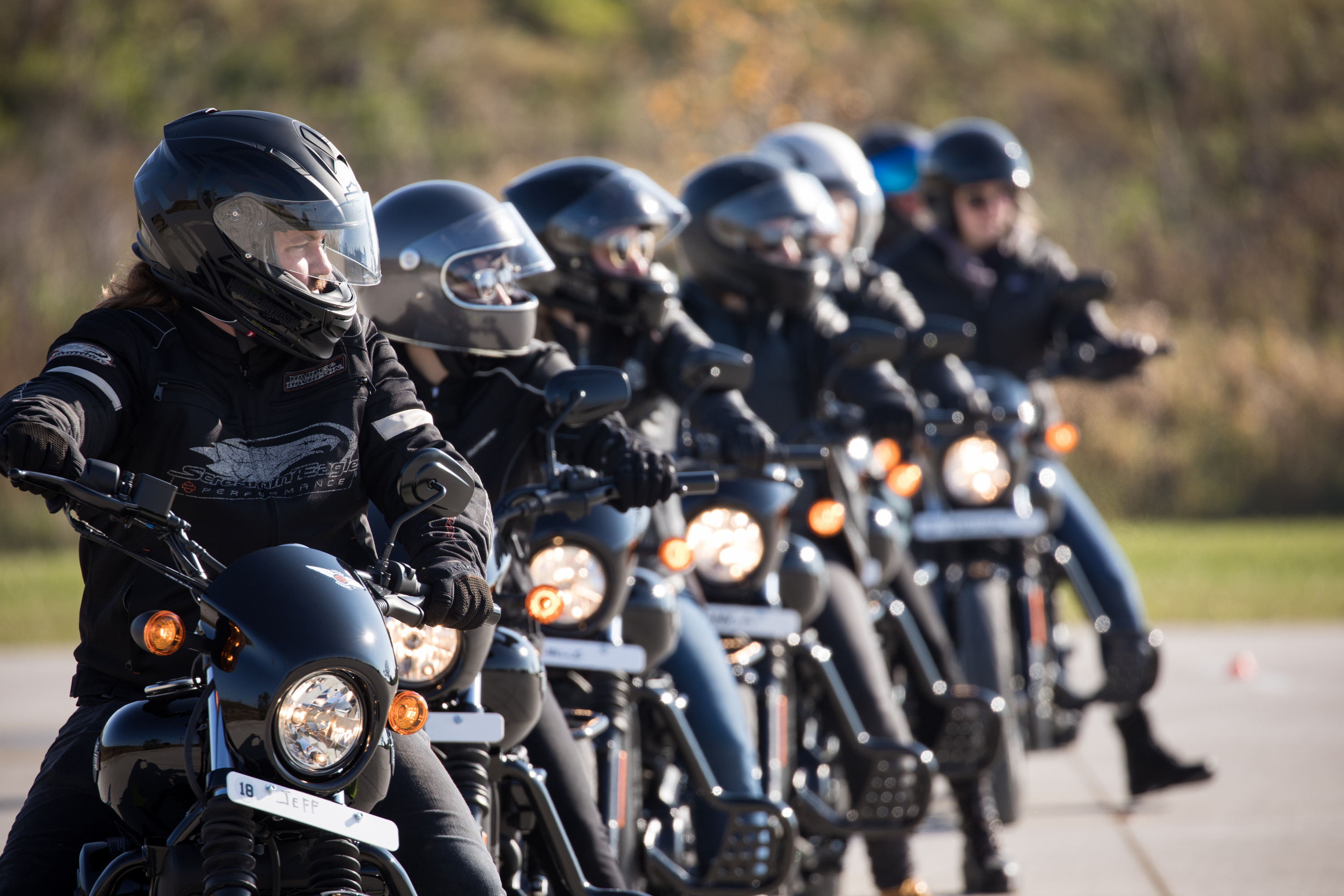 Friday
5:45pm - 9:30pm  |  Classroom
Saturday
7:00am - 4:00pm  |  Range
Sunday
7:00am - 4:00pm  |  Range & Evaluation
Our classes from March to November are as follows:


---
ABOUT RIDING ACADEMY
Although designed for beginners, any rider will benefit from this course. Gain basic skills and knowledge to earn your endorsement/license. In-class and on-range sessions. Motorcycle provided; personal gear required.
After you complete our course, you can apply for your Motorcycle Endorsement in Missouri! Our class qualifies as the written and driving portion of your Motorcycle Endorsement Test! All you'll need to do after passing our academy is make a quick trip to the local licensing office and have your new endorsement added.
The experts at our dealership are always here to help you. If you have any questions about our techniques, scheduling, pricing, or attire. Our team will gladly assist you. We want to make sure that your learning experience is as comfortable as possible.
Want a new bike?  If you train at the Riding Academy then you may qualify for special low APR Offers!
---
WHAT TO DO BEFORE A HARLEY DAVIDSON MOTORCYCLE CLASS
Get comfortable on a motorcycle before you even walk into your first class. Make the most of your class by getting in the saddle at your local Harley-Davidson® dealership and trying a Jumpstart™ demo. Getting knowledgeable before your class begins will get you on a bike and feeling comfortable faster.
You'll mount the motorcycle, set your boots on the foot pegs and fire up the engine under the watchful eye of our trained personnel. And then, sitting comfortably on the motorcycle, you'll give the throttle a twist and continue to shift through the gears – all while safely and securely attached to the Jumpstart™ platform.


You will need the following for class:
• A 3/4 or full face DOT approved Helmet
• Protective Eyewear
• Over-the-Ankle Shoe/Boot
• Long Sleeve Shirt/ Jacket
• Full Finger Gloves
• Jeans or Motorcycle Pants
• Motorcycle Permit or Driver's License with Motorcycle Endorsement. 
---
THE ULTIMATE GUIDE
Whatever your journey, we have the gear to get you there. Designed with you in mind, our range is tailored for safety, comfort and confidence, from classic leather jackets and helmets to eyewear and gloves.
WEEKEND CLASSES
Friday         5:45-9:30pm     All class-room
Saturday    7am – 4pm    Class and Range
Sunday     7am – 4pm    Class and Range
 No - The curriculum is a building block learning process.
At least fifteen and one-half (15 1/2) years (15 years and 182 days) old on the day the course begins.
- No, we provide Harley Davidson Street 500s during the class
- No, they are real-world Harley Davidson motorcycles. They have modifications just for the learning environment.
1) Each motorcycle has a protective kit installed that limits damage should the bike fall over
2) a calibration unit is installed the limits the speed of the motorcycles for the course environment.
- Successfully complete all range exercise and class work and pass both written and riding exams.
- No, you will have to start from the beginning and need to pay for the new class.
- No, right now Harley Davidson does not have special promotions for Riding Academy
 - See the sales department, they may have special deals.
While the range & class curriculum is the same our motorcycles are Harley-Davidsons and we add a H-D experience, additionally Harley Davidson Rider Coaches have additional certification.
- We ride rain or shine; consider bringing rain gear and a change of clothes.
- You may reschedule a class one-time, within our season, if you contact the Riding Academy Manager 7 days before the start of your scheduled class.
- If you contact the Riding Academy Manager 7 days before the start of your scheduled class.
- You will be required to hold up the weight of the motorcycle when stopped and also move the motorcycle while sitting upon it during an early exercise.
- When you successfully complete our course, the riding/skills evaluation and written exam at the DMV is waived. See the DMV for detail.  Permits only require a written exam and have riding restrictions.
- Check with your local DMV for the most accurate info on what is accepted by your state.  For students that are residents outside of Missouri, when successfully passing our class, you will receive a Motorcycle Safety Foundation completion card for the Basic Rider Course.
-  No, our range size does not allow room for the 3-wheeler course
- The skilled rider class will be offered soon.
- Occasionally when it becomes clear that a student is not progressing enough to meet objectives in exercises the coaches may counsel out a student, students may also choose to stop when they feel that they are not progressing.  Occasionally a student may fail one of the exams at the end of class.
- No more than 10. With at least one Rider Coach per 5 students.
Riding Academy Contact Info
ridingacademy@gatewayhd.com  |  Store:314-845-9900


Larry Kurtz
Riding Academy Manager  |  (847) 226-3690